Upcoming in June
new fiction from David Paul
Set in 1920 in Bethlehem. This searing work of love and betrayal captures the despair and the hopes of the Palestinian people. The novel's authentic feel is a tribute to the author's many years promoting Palestinian culture on an international stage.
Most of contemporary Palestinian novels tackle current issues and are deeply embedded in the Palestinian-Israeli conflict and the Nakbah in 1948. A Moon Will Rise is set in Bethlehem in 1920, just as Palestine is recovering from the hard years of World War I. But already a sense of foreboding hangs over middle class Palestinian society as the British Mandate takes over after the collapse of the Ottoman Empire. Tensions between the Palestinians and waves of Jewish immigrants spark riots on 19 April 1920, setting the tone for open warfare, which will erupt in 1948 and lead to the dispersal of the Palestinian nation.
The novel focuses on the life of Samira Lafiah, a 20-year old woman from a prominent but strongly conservative family who finds that her life chances are blighted by society's rigid conventions. As she struggles to find herself in society, she defies her mother, her brother and her family, discovering love and disappointment, experiencing tragedy, until she finds her course. Throughout this tumultuous journey only one person understands her dilemma: Ibrahim Malik, her brother's friend and a socially marginalised refugee.
As partaker of the social, economic and cultural life of Bethlehem, the Lafiah family testifies to this period, replete with turbulence, uncertainty and confused positions, which have become symptomatic of Middle East politics.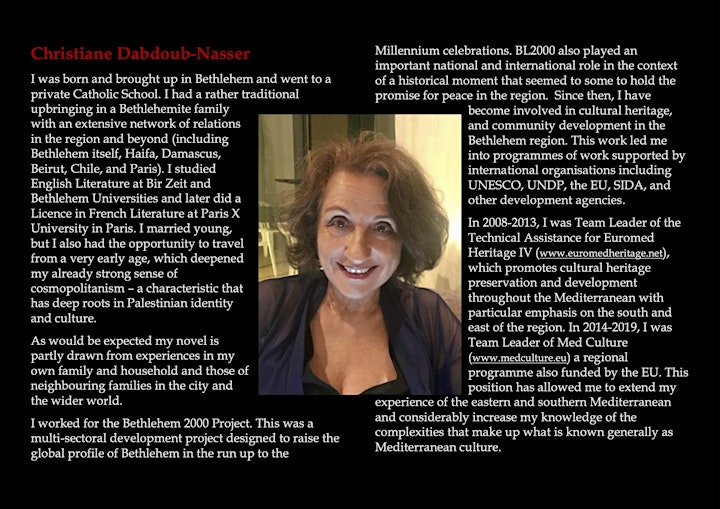 ISBN 97809926667351 Paperback Original £12.99
ISBN 9780992667378 Ebook £9.99